Meet CFR's Team of Market Researchers
Our Executive Team
Curtis Burrow
Co-CEO
Curtis has been working with CFR since January 2001. He is a respected leader who earns the trust of every customer and employee he works with by always looking out for the best interest of the research, the customer and our business. His direct communication style and unwavering integrity are guiding principles for everyone in our business. He is primarily responsible for customer service and IT.

Curtis Burrow on LinkedIn • cburrow@cfrinc.net
Colson Steber
Co-CEO
President of the Insights Association Great Lakes Chapter
Member of Entrepreneur's Organization
Colson has been working with CFR since February 2012. Colson is a strategic thinker that relentlessly pursues achieving the goals we set. As a leader he is always focused on continuously improving and putting every person around him in a position to succeed. He is primarily responsible for finance and developing new customer relationships.

Colson Steber on LinkedIn • csteber@cfrinc.net
Kim Rose
Operations Manager
Kim has been working with CFR since February 2000. Kim's experience covers nearly every service delivery activity at CFR including telephone interviewing, phone room management, and project management. She is the driving force that makes our project and call centers run efficiently and effectively.

krose@cfrinc.net
Chris Kreiling
Vice President, Client Services
Chris has been working with CFR since December 2014. Everyone that Chris works with says he makes them feel very comfortable that he is looking out for them and making good business decisions about how to follow through on research.
Chris Kreiling on LinkedIn • CKreiling@cfrinc.net
Our Market Research Management Team
CFR's market researchers take ownership overachieving the research outcomes. They strive to serve the best interests of the research, our customers, and CFR. Each project is assigned a project manager to serve as the main point of contact and be the CFR team leader.
Andrew Plyler
Account Manager
Andrew has been working with CFR since January 2014. Andrew approaches every client with a hands on personal level of attention. Andrew is best at handling situations where there are a lot of details and conflicting priorities and finding a way to deliver. He works to understand the whole research project and make sure all the small things are taken care of.

Andrew Plyler on LinkedIn • aplyler@cfrinc.net
Jason Lorah
Account Manager
Member of National Agri-Marketing Association

Jason has been at CFR since November 2015. Jason rose quickly from call center supervisor into new roles. Now as an Account Manager he works with customers as their first point of contact with an in-depth knowledge of our business. Jason's ability to understand others situations and see how he can help them makes him a great partner.
Jason Lorah on LinkedIn • jlorah@cfrinc.net
Lisa Maloney
Project Manager
Lisa joined CFR in November 2018. Lisa has spent over 20 years in research project management roles. Lisa is a qualitative master with a high level understanding of how to deliver great service in any situation.
Sarah Baker
Project Manager
Sarah joined CFR in September 2013. Sarah blends years of experience being the one getting the job done with great communication and teamwork. She is versatile and keeps her eye on what matters most, making her a great decision-maker to work with.
Mitch Schiller
Project Manager
Mitch joined CFR in June 2019. Mitch is a talented research analyst that pushes for technically driven realistic solutions to difficult research situations.
Sarah Kurple
Project Manager
Sarah joined CFR in May 2013. Sarah draws on her passion for market research to be great at project management. She is constantly pushing for the opportunity to learn new things. Her strengths are in managing the research process and enjoying digging into learning about research analysis. Her willingness to challenge herself to learn more about research and how to serve customers better makes her a great person to build a working relationship with.
Sarah Dunham Kurple on LinkedIn • skurple@cfrinc.net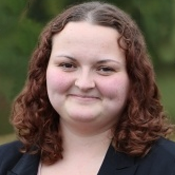 Ariel Coleman
Senior Project Manager
Ariel joined CFR in September 2014 as a member of Project Support, and in May 2016 she was promoted to Project Manager. She is passionate about continuing to learn and master new skills, and enjoys showing those skills to others. Ariel approaches managing studies with a very analytical and outcome-driven frame of mind in order to achieve desired project outcomes.
Ariel Coleman on LinkedIn • AColeman@cfrinc.net
Maggie Forsee
Project Manager
Maggie joined CFR in August 2017. Maggie brings with her several years of marketing, advertising, and strategic/corporate communications experience. Maggie is a valuable asset to any researcher that wants a business relationship with someone that can bring a multi-faceted approach to their projects.
Maggie Forsee on LinkedIN • MForsee@cfrinc.net